License Plate Frames For Auto Dealers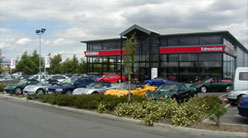 Our license plate frames will make your dealership money like no other frames can. Today, the majority of customers view dealership license plate frames as tacky and obnoxious and usually discard them after taking delivery of their car.
Money you spent having frames made and installed on your entire inventory is being thrown away! So how does Framehandle.com solve this problem for you? We do it by providing your dealership with the only License plate frames available that are a useful tool. The first time your customer effortlessly closes their trunk without adding fingerprints and scratches they'll become attached to the new patented Framehandle and take notice of your dealership's innovative nature. Your customer will no doubt be impressed with this brand new product which means your frames will remain on your cars and advertise your business for years!
Our CNC rotary engraving process will ensure that your dealership's information is displayed in the most professional fashion possible. An engraved frame looks prestigious and is unscathed by even the harshest environments. Most dealer frames are old fashion, made by inserting a text mold on top of a cheap and very dated frame mold. This process results in a license plate frame that looks out of place on modern cars and are a waste of your time and money. Send us a file with your requirements and we'll have your frames ready in a matter of days!
FEATURES
Our patented Framehandle along with our standard frames are engraved using modern CNC technology giving them most premium look possible.

The PERFECT license plate frame for your auto dealership is finally here.
BENEFITS
Our license plate frames offer unmatched practicality, beauty, and value.

Not only will your customers love the convenience of their new Framehandle, they'll love its high-end look and feel!
Nowhere else will you find a license plate frame designed to make your life easier.Our license plate frames add a touch of class to your vehicle and can provide a useful handle for opening and closing your trunk.