License Plate Frame Selection Guide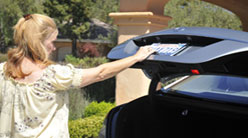 It is important to take a second and determine which license plate frames you and your vehicle require. For many states the registration stickers are located on the bottom corners of the license plate.
These plates would require either our 50 state Framehandle or our Standard non handle License Plate Frame. For states where registration stickers are at the top corners you have the option of selecting our Wide Bottom Framehandle which has a heavier, more luxurious look thanks to a smooth wide base. The front of your vehicle will obviously always require our standard frame as well as vehicles with rear bumper mounted license plates. We have included a guide to State License Plate designs below. Also on this page see our list of vehicle makes and models and which license plate frame works best.

Features
We have the perfect license plate frame for every car or truck, check out our Makes & Models guide to determine which rear frame your vehicle requires.

Our frames utilize a brand new design that is modern, sleek, and stylish.
Benefits
Close your trunk the smart and easy way with our patented Framehandle License Plate Frame.

Help your car look it's best with the most luxurious looking license plate frames available.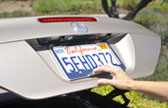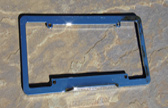 Nowhere else will you find a license plate frame designed to make your life easier.Our license plate frames add a touch of class to your vehicle and can provide a useful handle for opening and closing your trunk.